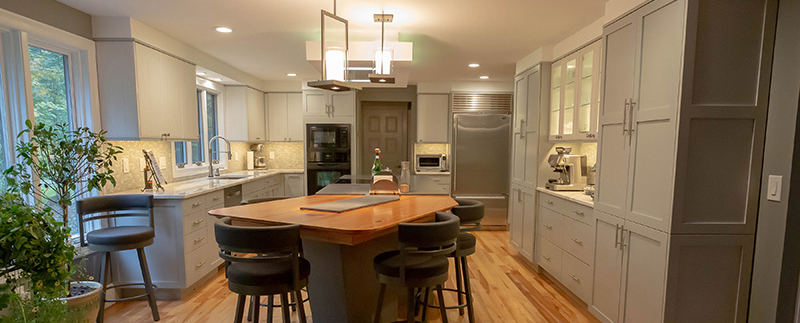 SIX STEPS TO A "WORK OF ART THAT WORKS"
"THE CURIO WAY" IS MORE THAN JUST A PROCESS. IT IS OUR FOUR DECADES OF EXPERIENCE TRANSLATED INTO A PROPRIETARY CONSULTATION SYSTEM, THAT MAXIMIZES EFFICIENCY ON EVERY PROJECT.
FULL SERVICE KITCHEN DESIGN/BUILD
Step 1: Call to schedule your no-cost consultation, either on Zoom or in our showroom.
Step 2: Book a measuring appointment, in your home. (60 to 90 min)
We cannot begin designing your project without this basic, foundational information. We'll ask questions via our "Design Survey" that allows you to help materialize your ideas and tell us what you want. All of these intangible details have a significant impact on how your kitchen will turn out, in the end.
Questions like:
When was your home built?

How long have you lived there?

How many people are living in the home? Etc.
Step 3: Return to the showroom (or Zoom) and we review preliminary conceptual plan(s). (60 to 90 min)
The complexity and quantity of plans depends on your requests vs. what you currently have. Are we knocking down walls? Rearranging layout of plumbing or electrical? Etc.
Step 4: Take all of the favored concepts and merge them into a plan for final review and approval. (60 to 90 min)
We can likely provide a project cost analysis, during this meeting. We'll provide "Good, Better, Best" budget ranges. Quality, style, and type of product will dictate each scenario. At this point, you decide on a budget range that can accomplish your desired outcome.
Step 5: Now, we dial in the specifics of the design and installation, to help us iron out the details and arrive at a final plan and cost.
Questions like:
Are you keeping appliances or purchasing brand new?

Are we installing tile, wood, or vinyl flooring?

Are we installing cherry, oak, or maple cabinets?

What type of finish are we using on exterior cabinets? Interior?

What cabinet door style are we using? (Smooth, shaker, elaborate, etc.)

What countertop material will you select? Thickness? Edge design?

What backsplash material will you select?

What is your soffit style of choice?

Are we installing eight recessed lights or one fixture, such as a chandelier? Etc.
Step 6: The final step before the contract is our Virtual Reality (VR) Consultation.
Kitchens by Curio is the only designer in New England with Oculus software that allows you to tour your kitchen before it is even built!
After your VR walkthrough, the contract is now formed with all established details and a fixed price. We will include the option of additional amendments, allowing for extras or add-ons.